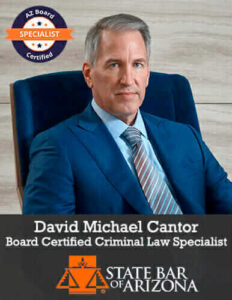 When a person has been charged with a crime and is facing potential harsh punishments, one of the most important decisions a person can make is finding the right attorney for representation. Having a skilled, experienced attorney that is also a Criminal Law Specialist can make the difference between a complete acquittal and conviction. Deciding upon the right attorney can be a difficult task for most people given the large number of criminal defense attorneys providing services.
People who have been charged with a crime in Arizona have the advantage of being able to select attorneys that are Certified by the State Bar of Arizona as Criminal Law Specialists which makes this task much easier. Criminal law certification is an objective determination of an attorney's experience, competency and ethics.
Out of the 18,500 attorneys that are active members in the Arizona State Bar, only 77 attorneys in the entire state of Arizona are certified in criminal law.
---
DM Cantor has 3 Board Certified Criminal Law Specialist, the most of any defense firm Arizona!
Continue reading to learn why this is so important.
---
What is an Arizona Board Certified Criminal Law Specialist?
Although any attorney licensed to practice in the state of Arizona is authorized to represent criminal defendants, certain attorneys who have more extensive experience in criminal law may obtain a specialist title. The Arizona Board of Legal Specialization promulgates (puts laws into effect) standards that attorneys must meet in order to certify as a criminal law specialist. At least five members of the ten-member Criminal Law Advisory Commission must approve attorneys for specialist certification.
The process for obtaining certification as a specialist in criminal law in Arizona is rigorous. The Arizona State Bar lists the following requirements to qualify:
The criminal defense attorney needs to be licensed and practicing law for at least 7 years, 2 of those years in Arizona.
Dedicate a minimum of 50% of a full-time law practice in criminal defense
Substantial involvement in the certification area for 4 of the 6 years immediately preceding the application
Demonstrate integrity, professionalism and a high degree of competence in the specialty field
Peer recommendations from attorneys, judges and other professionals in the specialty field
Pass a written examination
Attorneys must reapply every 5 years to maintain Specialization – David Cantor has been a Criminal Law Specialist since 1999!
Speak with a Criminal Law Specialist About Your Case
Schedule a Free Consultation Here 
---
Five Reasons why Certified Criminal Law Specialists are Recommended
There are many advantages to hiring a criminal law specialist in Arizona. When hiring a certified criminal defense specialist, potential clients do not have to spend as much time researching the qualifications of defense attorneys, as much of this legwork has already been performed as part of the certification process.
Certified criminal law specialists must have recent, substantial criminal law experience.
Many attorneys who practice criminal law may have years of experience in other areas of law, but little substantive experience in criminal law. A layperson may not be familiar with the type of experience an attorney needs to be an effective advocate in a criminal case. By retaining a certified criminal law specialist, defendants can rest assured that their attorney has extensive, relevant experience in all types of criminal cases, including the most serious criminal proceedings. Further, certified criminal law specialists have current involvement in the criminal field and are not merely relying on past experience that may no longer be relevant.
In order to obtain certification, certified criminal law specialists must have served as lead counsel in at least ten criminal felony jury trials, five of which must have involved serious felonies, defined as felonies which are punishable by a minimum of five years in prison upon conviction. The fact that criminal law specialists are required to have been lead counsel is significant and can help potential clients weed out inexperienced attorneys who have only shadowed more senior partners at hearings. For certification purposes, attorneys must have served as counsel of record in at least 125 criminal matters in the five-year period preceding certification.
Certified specialists must have also handled at least 15 contested evidentiary hearings, including motions to suppress, motions in limine and complex federal and state sentencing hearings. The requirement that the hearings are complex and contested means that the attorney will have knowledge of pertinent statutes and case law and the ability to articulate an argument advancing the client's interests based on that authority.
Finally, certified criminal law specialists must have experience in other non-routine criminal matters such as habeas corpus actions and other post-conviction relief; motions to vacate and set aside sentences; and appeals in the U.S. Supreme Court and state and federal appellate courts.
Must demonstrate a high level of competence and integrity.
The quality of criminal attorneys varies greatly and it is difficult for laypeople to determine which attorneys are the most skilled. If an attorney is certified as a criminal law specialist, the attorney have demonstrated a high level of competence. Certified criminal law specialists must pass a special written examination designed to test their knowledge of criminal practice and procedure. The attorney must also demonstrate their knowledge of their ethical responsibilities as criminal advocates.
In addition to passing a written exam, attorneys are subjected to a background check. Attorneys who have had inexcusable disciplinary proceedings against them in the past five years are not eligible to become certified criminal law specialists. This requirement ensures that attorneys are not only knowledgeable about their ethical responsibilities to clients, but have a demonstrated record of integrity over a several-year period.
Respect of their peers.
Attorneys who obtain criminal law specialist certification in Arizona have a good reputation in the state's legal community. Each specialist must submit references from five current practicing attorneys of the state familiar with the attorney's advocacy. The attorneys named by the applicant will then have to provide written documentation regarding specific aspects of the applicant's character and abilities, including their knowledge of criminal law topics; thoroughness of research and presentation and effectiveness in the courtroom. In addition to the five references, the names applicants seeking specialist certification are published by the Arizona State Bar for public comment. All attorney reviews are also considered in the attorney's application for certification.
The vetting process that is involved in receiving a criminal law specialist determination is invaluable for laypeople to assess the attorney's standing in the legal community. Without the benefit of this process, it is very difficult to obtain an objective analysis of an attorney's quality and integrity.
Must remain updated on changes in criminal law and procedure.
Criminal laws are continually changing. The Arizona state legislature passes new criminal statutes ever year, and the state's appellate courts also issue several opinions interpreting criminal law that can have a dramatic impact on criminal representation. Attorneys must remain abreast of these changes in order to be effective criminal defense advocates. To maintain their criminal law specialist certification, attorneys must continue to educate themselves regarding cutting edge issues in criminal law and are required to take at least twelve hours of advanced criminal law coursework.
Must reapply for certification periodically.
Attorneys who have been certified as criminal law specialists cannot simply rest on their past achievements to maintain their certification. Instead, they must reapply for certification every five years and continue to devote the majority of their practice to criminal law matters. As part of the recertification process, attorneys must submit a detailed list of the criminal law work they have engaged in since obtaining their certification, including trials, hearings, grand jury litigation and independent counsel representation, and describe the complexity of those matters. Teaching, and compliance representation activities are also considered. The attorney must also demonstrate that they have continued to maintain an acceptable level of competence and integrity by resubmitting references.
---
Experience that Speaks For Itself
Not all states have a process for evaluating the experience and reputational standing of its licensed attorneys, so Arizona's certification of criminal law specialists provides a distinct advantage to its citizens. The process of becoming a certified criminal law specialist in Arizona is exceedingly rigorous, providing potential clients with an invaluable, objective means of evaluating the experience, competency and integrity of criminal defense attorneys. Criminal defense attorneys who receive the certification must commit a significant amount of time and resources to obtaining and maintaining the certification. They also must demonstrate a minimum level of competency in many types of criminal matters, including matters that are complex and novel. Consequently, only a small percentage of licensed attorneys are certified as specialists in Arizona.
The firm of DM Cantor boasts 3 Board Certified Criminal Law Specialists among its team of defense attorneys, which is a testament of the quality of representation criminal defendants can expect to receive when retaining an attorney from the firm. The firm's founding partner, David Michael Cantor, has been a board-certified criminal defense specialist since 1999 and has been awarded a number of prestigious awards recognizing the superior quality of his legal representation.