Maricopa County Sheriff's Office 4th Ave Jail
(aka Saguaro Jail)
Arrested in Arizona? Call Today for Help!
---
Important: Call Us before you call a Bail Bondsman – Watch this video to see why.
It is important that you call us before calling a Bail Bondsman! We are available for Maricopa County 4th Avenue Jail (aka Saguaro Jail) visits on request and can work quickly to help reduce or eliminate bail.
---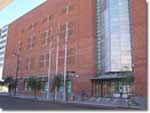 If you or someone you know is arrested in Phoenix for a misdemeanor or anywhere in the Metro area for a felony it is probable that you or they will end up at the Maricopa County 4th Avenue Jail (aka Saguaro Jail) in downtown Phoenix Arizona. This facility was opened in April of 2005 and is located only a half mile from our offices at 1 E Washington St, Phoenix, AZ 85004. If you need to post bond for someone in the 4th Avenue Jail, please read our extensive How-To Guide. Our guide has information regarding forms of payment, how to post the bond, and specifically where to go at the jail in downtown Phoenix.
For example, the Judge may decide that you have a $100,000 bond which means you will have to pay a bondsman $10,000 (or 10% the standard fee) to be released. If you call us first we may be able to reduce the bond to $10,000 which would reduce your payment to the bondsman $1,000, or we may be able to have the bond eliminated completely (i.e. Released of Own Recognizance (OR), Third Party Release, or Pretrial Services Release). Click Here to read more about the 4 types of release.
4th Ave Jail Location:
201 S. 4th Ave Phoenix, AZ 85003
4th Ave Jail Phone Number:
(602) 876-1239
Information about the 4th Avenue Jail
The Maricopa County Fourth Avenue Jail opened in April 2005. This state of the art facility is considered to be one of the most secure and technologically advanced facilities in the nation. This facility was part of the largest county jail expansion project in the history of the nation, supported overwhelmingly by the taxpayers of Maricopa County. Fourth Avenue has a capacity of 2,064 beds of which 288 are specifically designed to house the highest security level inmate in the system.

The Fourth Avenue Jail was designed first and foremost with the interest of public safety in mind, following Sheriff Joe Arpaio's philosophy of remaining tough on crime. The Fourth Avenue Jail features user friendly video visitation for the general public. This facility also maintains a fully staffed and equipped medical and dental clinic. In addition, inmates are offered educational and religious services in the chapel and classrooms within the facility.