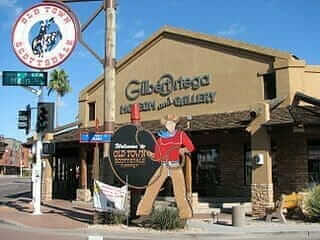 If you have been arrested or suspected of DUI in Scottsdale, AZ, we're here to help and guide you through the process. The Law Offices of David Michael Cantor is Arizona's premier criminal defense law firm that handles all types of criminal matters but especially DUI cases. David Michael Cantor and his team of Scottsdale DUI Attorneys are very highly rated and very well respected within the State of Arizona. With 100s of DUI cases in Scottsdale won outright, dismissed, reduced, or thrown out, we have a proven track record as the best DUI attorneys in Scottsdale, North Scottsdale, and the rest of the Phoenix metro area.
David Michael Cantor is a Certified Criminal Law Specialist by the Arizona Board of Specialization and has over 25 years of providing expert criminal defense for DUI cases in Scottsdale (including North Scottsdale) and the surrounding areas of Phoenix. The Law Offices of David Michael Cantor is an AV rated law firm (highest rating possible) by Martindale-Hubbell. We offer free case consultations, please contact us today at (602) 307-0808 to schedule an appointment for us to review your case. To take a look at the case victories we've had in Scottsdale City Court, click here (DUI victories included). Please read on for information about DUI penalties and possible defenses.
DUI Penalties
According to Arizona State Law there are many different charges for Driving Under the Influence (A.R.S. §28-1381 (A)(1); A.R.S. §28-1381 (A)(2); A.R.S. §28-1381 (A)(3); A.R.S. §28-1382; A.R.S. §28-1382(D)(1); A.R.S. §1328-1381 (A)(1); A.R.S. §1328-1381 (A)(2)); one of the main factors that determines how you are charged is going to be your Blood Alcohol Content (BAC) which is determined by breath or blood testing.
If your BAC is between .08% and .149% then you can be charged with a Misdemeanor Regular DUI and will face the following:
30 day Driver's license suspension, 10 days in jail, Alcohol Classes, Ignition Interlock Device, fines and other penalties totaling: $3,502 or more. You can read more here.

If your BAC is between .149% and .199% then you can be charged with a Misdemeanor Extreme DUI and will face the following:
Lose Diver's License 90 days, 30 days in jail, Alcohol Classes, Ignition Interlock Device, fines and other penalties totaling: $7,122 or more. More information is available here.

If your BAC is higher than .20% then you can be charged with a Super Extreme DUI and will face the following:
Driver's License Suspension for at least 90 days, Mandatory Minimum of 45 days in jail, Alcohol Classes, Car Ignition Ingterlock Device, fines and other penalties totaling: $9,429 or more. For a full list, click here.
Click Here to Start Your Free Consultation.
DUI Defenses
As one of the most honest & well respected DUI Lawyers in Arizona, David Michael Cantor takes his profession very seriously and understands what is at stake for you and your case. This is why David and his team of DUI defense lawyers are very well versed in a number of highly effective DUI Defenses. Some of them are as follows:
No Actual Physical Control - If a police officer in Scottsdale finds someone behind the wheel of a running automobile who is intoxicated but not driving, the officer cannot arrest this person for DUI. Legally, this situation shows a person who is not physically in control of the car and is not considered to be "driving under the influence".
No Reasonable Suspicion to Stop - In the State of Arizona, it is illegal for law enforcement to stop or even detain a person based on age, religion, race, gender, or any other potentially discriminatory manner. If a police officer or law enforcement official stops you without providing evidence as to why they pulled you over, then the stop would be considered unconstitutional or illegal.
No Probable Cause for Arrest - The No Probable Cause Defense is used for individuals who were given improperly administered sobirety tests or field sobriety tests. The National Highway Traffic Safety Administration says that no suspect should be asked to take a field sobriety test if:
the person is over 65 years of age

the person is more than 50 lbs overweight
the person's shoes have heels over 2 inches high
the person has any disability or has an injury or issue to their hip, knee, leg, ankle, or back
Denial of Right to Counsel – An experienced Scottsdale DUI attorney like David Michael Cantor can use this defense if they can prove that the suspect was denied calling their lawyer. These situations can arise if the officer ignored or waited too long to provide you with access to legal counsel without reasonable explanation (cause). David has had many cases dismissed by applying this DUI defense.
Inaccuracy of Breath or Blood Testing Device or Procedures - The Department of Health Services in Arizona has developed guidelines that law enforcement officers are expected to follow concerning the calibration and regular maintenance of breath testing devices. David and his team have been very successful in investigating and scrutinizing the maintenance records of these tools and have had DUI charges thrown out of court.
For more information about DUI Defense tactics in Arizona, please click here.
Please use the following links if you would like information about the Scottsdale City Court or the Judges in the Scottsdale City Court (Video review by David).
I'm ready to speak with a DUI lawyer, please start my consultation.
The City of Scottsdale is one of those towns that has a wide array fun areas for entertainment: Old Town Scottsdale, The Scottsdale Quarter, San Francisco Giants Spring Training Baseball Facility, Salt River Fields Baseball Park (Arizona Diamondbacks & Colorado Rockies Spring Training Baseball), Talking Stick Hotel at Casino Arizona, and a whole host of bars and restaurants lining the streets from North Scottsdale through Old Town and down to the Scottsdale border with Tempe. We always encourage everyone to be safe but if you are ever in need of a no-nonsense, aggressive DUI lawyer in Scottsdale, then please give us a call for a free case review. Our offices can be reached at (602) 307-0808 or by secure email 24 hours a day.